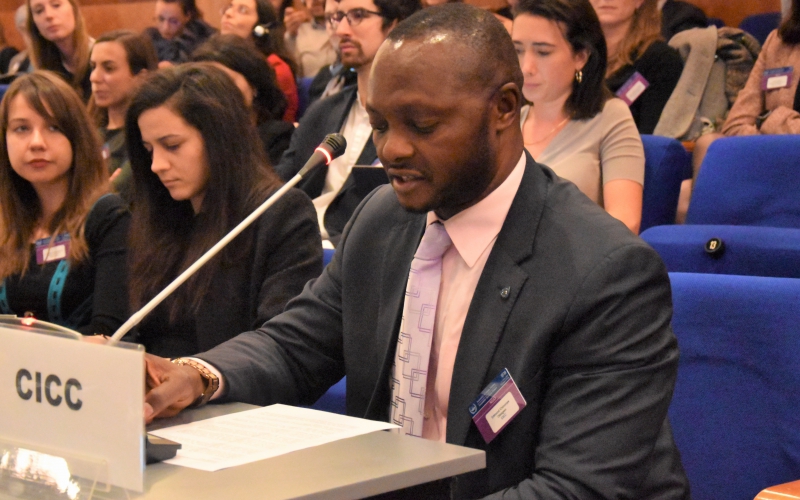 On 6 December 2019, during the closure plenary session of the 18th Session of the Assembly of States Parties (ASP) to the Rome Statute of the International Criminal Court (ICC), Mr. Chino Obiagwu, Chair of the Nigerian national Coalition for the ICC, on behalf of the Coalition delivered the following statement,
Mr. President,
As this Assembly session concludes, the Coalition for the International Criminal Court confirms its strong commitment to the Court and the Rome State system. We acknowledge the imperfections and evolving nature of current international justice efforts. To succeed, it is clear that the Court needs a willing partner in this Assembly and its states parties. 
First, the Coalition notes efforts to strengthen the court and we recognise these developments as opportunities for meaningful change. We underscore that these efforts must genuinely engage victims and affected communities and learn from the expertise of civil society, particularly on cross-cutting issues.
Second, it is essential that states parties provide the Court with adequate resources. The insistence by some states parties on restricting the court's budget without sufficient consideration for its workload is leading to financial strangulation, undercutting the ability of the ICC to act as an essential court of last resort. We call on the Assembly to renew a genuine dialogue with the court and civil society regarding the court's resource needs.
Third, we welcome the adoption of the resolution on the nomination and election of judges. While the resolution represents a significant step forward to ensure the election of the most qualified judges, more needs to be done to ensure fair, transparent and merit-based elections, in particular regarding national nominations processes. We welcome the fact that the matter will remain under consideration.
Fourth, states should commit to act on instances of non-cooperation. In the omnibus resolution just adopted moments ago, the ASP recognizes with concern the negative impact that the non-execution of requests continues to have on the ability of the Court to execute its mandate. Recognition is not enough where action is required.
Finally, we pay tribute to all Human Rights Defenders and civil society representatives whose rights have been compromised in the pursuit of international justice and who risk their lives on a daily basis.
Mr. President, we remain ready to continue to strengthen and support the Court and work together with this Assembly so that it can be a force of progress and stay true to the preamble of the Rome Statute.
As we conclude this ASP and prepare for the next, the Coalition for the ICC stands ready to engage with you and the Court, to share our vision, experience and expertise to seek solutions to make the system more fair, effective, independent, accessible and accountable.
Thank you.
Coalition for the International Criminal Court